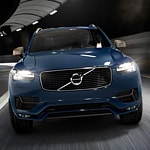 When you sit in the Volvo XC90, you will grow to understand the meaning of the lap of luxury. From its leather seats to technological design features, everyone inside will have access to just about anything that they need. As a popular luxury SUV, you will also find several performance features that set the XC90 apart from others in its class.
You will have your choice of four different drive mode settings. Moving between comfort, eco, dynamic, and off-road modes is as easy as pushing the button on your center console. This changes the way the SUV handles based on your preference.
The four-corner air suspension is also quite helpful. You will notice that the suspension automatically adjusts based on your speed and terrain. When you are going fast, the vehicle will actually lower in order to cut down on air drag. You will notice this as you test drive the XC90 at Volvo Cars Monterey.